Two More Classic Episodes are headed to DVD in the UK soon:
Revenge of the Cybermen
is a fourth Doctor story first shown in 1975. Along with
Tom Baker,
it stars
Elisabeth Sladen
as Sarah Jane Smith and
Ian Marter
as Harry Sullivan. Written by
Gerry Davies
, the co-creator of the Cybermen, and
Robert Holmes
, the story is set on Nerva Beacon and on Voga the fabled planet of gold. It was the first story for the Cybermen since they appeared in the 1968 second Doctor story
The Invasion
and their last until
Earthshock
in 1982. Other cast members include Ronald Leigh-Hunt, Christopher Robbie, Jeremy Wilkin, William Marlowe, Michael Wisher, Kevin Stoney and David Collings. This story was the first Doctor Who story to be released on VHS in October 1983 with a retail price of £39.99.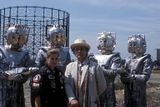 Silver Nemesis
was a seventh Doctor story, first shown in 1988. Alongside
Sylvester McCoy
as the Doctor, the story starred
Sophie Aldred
as Ace. Written by
Kevin Clarke
the story was part of the 25th year celebrations for the series. Other cast members included David Banks, Mark Hardy, Anton Diffring, Courtney Pine, Fiona Walker and a special appearance from film star Dolores Gray. In 1993 an extended version of this three-part serial was released on VHS. It is understood that this special edition will not be included on the DVD release, nor will the accompanying VHS documentary due to rights issues.